Happy National Ice Cream Day, everyone!
What better way to beat the heat than with some cold, delicious treats?! My family and I are always looking for places to fuel our ice cream obsession. We definitely have our favorites, and we love trying new places too!
Some of my favorite summer memories are meeting our family and friends at different ice cream spots in Indy. Here are 5 ice cream spots in Indianapolis to try this summer!
BRICS (Broad Ripple Ice Cream Station)
Broad Ripple
Broad Ripple Ice Cream Station (BRICS for short) is located in the original Broad Ripple Train Station. This charming shop has metal tasting spoons – how adorable?! BRICS is conveniently located off the Monon Trail in Broad Ripple, which is perfect for exploring the area on summer evenings or taking a walk with your pup.
You have plenty of choices from 24 permanent flavors and 12 rotating, seasonal flavors. BRICS is dedicated to environmental sustainability. Whether you enjoy your treat in-shop in their cute glass bowls, or take your treat to-go in their recyclable to-go cups, you can be assured you're environmentally friendly!
901 E 64th Street, 46220
Sub Zero Nitrogen Ice Cream
Mass Ave (Downtown) & Castleton Square
Sub Zero uses liquid nitrogen to instantly freeze ice cream. You choose the flavor and toppings, and each custom order is made in minutes. The sweet flavor of the instantly frozen ice cream is perfectly blended. The nitrogen freezing method creates a more dense ice cream, with less air and ice crystals.
Dietary restrictions? No problem! As each order is custom made, you can customize to vegan, lactose free, gluten-free, or reduced sugar. Choose from two locations in Indianapolis: Massachusetts Avenue and Castleton Square.
Indianapolis: 427 Massachusetts Avenue, 46204
Castleton: 6020 E 82nd Street, 46250
https://www.subzeroicecream.com/
The Dairy Bar at Trader's Point Creamery
Zionsville
Visit the Dairy Bar at Trader's Point Creamery to enjoy a treat on the farm! All ice cream at Trader's point is organic and uses 100% grass-fed milk and cream. Visitors can enjoy in the air-conditioned indoor shop or at the outdoor dairy bar's front patio.
Trader's Point can be a quick stop for ice cream or a full-day of farm fun! Purchase milk and cheese from the Farm Store, enjoy a meal at the restaurant, get upside down during a GOAT yoga class, and tour the farm!
9101 Moore Road, 46077


Sundae's
Geist
Serving the community for 25 years, Sundae's is a staple for ice cream in Indy! Over 60 flavors and other rotating seasonal flavors, Sundae's offers a variety of flavors from traditional vanilla to orange pineapple dreamsicle.
Sundae's offers pre-packaged tubs of ice cream for events and enjoying at home. You may recognize some of Sundae's flavors from restaurants across the midwest.
9922 E 79th Street, 46256
https://www.sundaeshomemade.com/
Graeter's Ice Cream
Butler-Tarkington, Fishers, & Carmel
Cincinnati based Graeter's Ice Cream is one of Indianapolis' favorite icy treats! With over 145 years of ice cream experience, this family-owned company is now on it's 4th generation of family leadership. Graeter's uses the french pot process to make their ice cream super creamy and delicious!
Grater's signature flavors are based with chocolate chips: black raspberry chocolate chip, mint chocolate chip, and peanut butter chocolate chip are a few staples. They do stray from the chocolate chips with flavors like butter pecan, cookies and cream, and madagascar vanilla bean. Don't miss out on peach, Graeter's 2019 summer flavor!
Butler-Tarkington: 5560 N Illinois Street, 46208
Carmel: 864 S Rangeline Road, 46032
Fishers: 9637 Ambleside Drive, 46038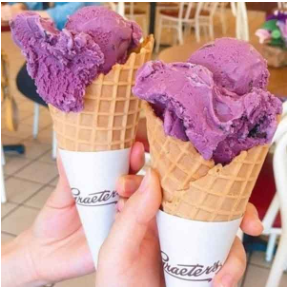 With these hot temps, cool off with a delicious, icy treat! Let me know which places you try this summer! Did I forget one of your favorites? Email your recommendations to cynthia@talktotucker.com!
Disclaimer: Some pictures taken from business websites.