Meet Cass

Cass Schuchman
REALTOR®/Broker, Yosha Snyder Group
(317) 716-8480
cass.schuchman@talktotucker.com
Cassandra M. Schuchman made Indianapolis her home over 25 years ago right out of Indiana University. Prior to graduating from Indiana University, Cassandra Mayger Schuchman grew up in Elkhart, Indiana where her parents still reside. Her sister Laura, brother-in-law Chris Knight and nieces and nephews lives in Warsaw.
Cassandra Schuchman will be adjusting to life as an empty nester this fall with one son studying to be a Personal Chef at Johnson and Wales in Denver in the Culinary Arts Program, and the other son studying at University of Metropolitan Denver in Special Events and Marketing Program. Nevertheless, Cass will not be left home alone, she has her French Bulldog, Moose, her cat, Vinny and frequent visits from her Australian Labradoodles Bear and London. In Cassandra's free time she enjoys yoga, spending time with family and friends, and volunteering her time with the Indianapolis Lupus Foundation Chapter. Cassandra is a very strong believer in Continuing Education and Self Development.
Cassandra Schuchman was the owner of Sweet Things for the past 14 years. Since 2005, Cassandra has a very strong and dedicated work ethic and has always taken pride and focused on customer satisfaction. She's been actively immersing herself in the community, community causes, but most of all, she has been very involved with her customers who she will miss immensely. May 31st, of this year Cassandra closed the door forever to Sweet Things to start a wonderful new adventure in her life with the F.C. Tucker and Yosha Snyder Group.
Cass is very knowledgeable in the Fishers, Indianapolis, Westfield, and Carmel areas. Her experience and familiarity in these areas is from being the resident, buyer and seller in each one of these areas. With the depth experience, diligence, and knowledge Cassandra and the Yosha Snyder Group will share, the outcome will be flawless and simple.
Cassandra believes the buying or selling process should be a wonderful adventure that you should enjoy from start to finish. You, as her client, are her main priority. The Yosha Snyder Team believe in professionalism, integrity and stress-free homebuying.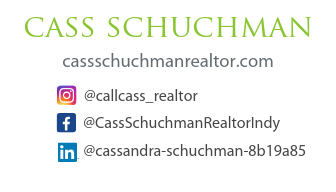 #LetsTalk
Questions? Comments? Let me know how I can help.
Thank you for the email, we'll get back to you shortly