There is a lot of holiday fun to be had in Indianapolis.
Indy has the brightest Christmas light displays and traditions to celebrate this magical season. Here are a few of our all-time holiday favorites.
Christmas at the Zoo
NOV 19 – DEC 30, 5 – 9 PM, OPEN UNTIL 10PM FRIDAY-SATURDAY
CLOSED THANKSGIVING DAY, CHRISTMAS EVE & DAY
Indianapolis Zoo, 1200 W Washington St, Indianapolis, IN 46222
The Zoo is an unique and fun family experience in the winter. You can see how the Zoo changes as the sun sets and the sky fills with twinkling lights. Families can join in on the countdown to light up the new animated Merry & Bright Christmas Tree in front of the Simon Skjodt International Orangutan Center as part of this year's Christmas celebration. Santa's Favorite Tree, sponsored by Twinkly, will dance to the music of Trans-Siberian Orchestra at Plains, creating a great photo opportunity for families and friends. We Three Trees, sponsored by Central Indiana Honda Dealers, will provide another fun photo opportunity for families. More information can be found at https://www.indianapoliszoo.com/events/christmas-at-the-zoo/.
Magic of Lights at Ruoff Music Center
NOV 18, 2022 – JAN 1, 2023
Open nightly starting at 5:30pm, Available by Tickets
Ruoff Music Center, 12880 E 146th Street, Noblesville, IN 46060
Magic of Lights at the Ruoff Music Center is a new family tradition in the Indy area. The light show offers dinosaurs, monster trucks, and even a 32-foot tall Holiday Barbie display! Tickets are changed by vehicle and you can grab your tickets at https://magicoflights.com/events/noblesville/. For those looking to save time and money, you can purchase your tickets online for a small discount.
Winterlights at Newfields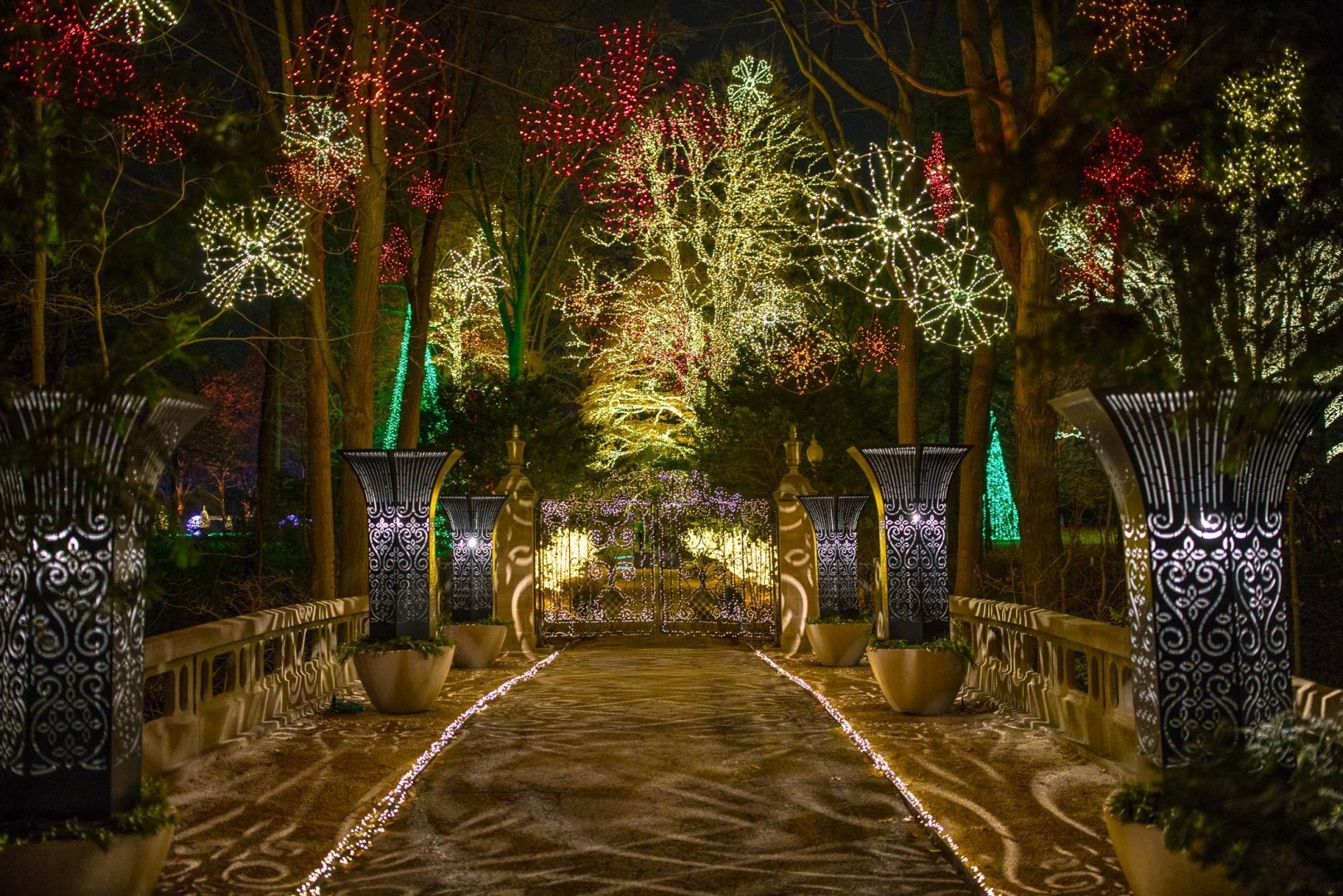 NOV 19, 2022 – JAN 8, 2023
Hours are 5pm – 9pm
One of Indianapolis's most beloved Winterlights festivals will once again take place at the Garden at Newfields, where visitors can walk through 1.5 million twinkling holiday lights to get into the spirit of the season. While you are adoring the Christmas lights, try out the new spiced cider, Sugar Plum Snow Day or Sun King's Electric Reindeer brown ale (for those old enough to do so). Make sure to bundle up and grab your tickets at https://discovernewfields.org/winterlights.
Downtown Indy – Circle of Lights
Available every day until Jan. 13, 2023
1 Monument CircleIndianapolis, IN 46204
The Circle of Lights, located in downtown Indy, is a yearly tradition for many families. When you visit the Circle of Lights, you can catch a ride in a horse carriage or shop through the many downtown shops. Our personal favorite is Rocket Fizz where we can load up on holiday candy and craft soda pop not available anywhere else.
Do you have a favorite spot? Let us know in the comments below!
Photo credits to indianapoliszoo.com, magicoflights.com, and discovernewfields.org.